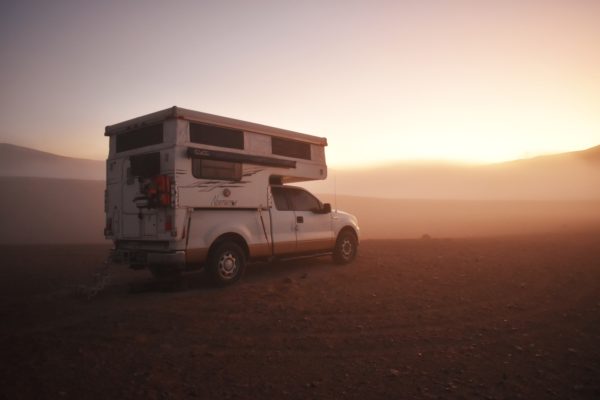 The Basics
2004 Ford F-150 XLT super cab.
215,200 miles
4×4
Automatic Transmission
Air conditioning
5.4 liter Triton V8 engine
Power windows/power door locks
Timing chain, cam phasers, roller followers and valve lash adjusters all replaced with Ford OEM parts at 215,200 miles
Tires new 211,192 miles
Spark plugs, injectors, and coils new at 209,000 miles
Catalytic convertors new at 208,000 miles
Power steering pump, air conditioner condenser all renewed.
Regular maintenance incl synthetic oil change ~5-6k miles.
2012 Northstar TC-650 popup camper.
North-south bed configuration, nobody is climbing over someone else to get in to or out of bed. Ample storage under and alongside bed.
Couch/second bed newly reupholstered in easy to clean outdoor furniture fabric.
Three-way fridge solar (battery)/AC (landline)/propane
150W solar panel, fixed. 110ah battery, 2000 watt inverter.
220v -> 110v transformer. Truly panam ready.
Bed stays assembled when top is stowed. This camper goes from stopped to sleep-ready in seconds or from fully deployed to road ready in ~30 minutes. New bedding included.
Kitchen fully ready for a panam trip incl brand new camping cookware** set from REI, dutch oven, pressure cooker, cutlery, plates, bowls, utensils (spatulas, wooden spoons, etc), chef's knives, cutting boards, salad spinner, food storage containers, plastic cups, wine glasses and shot glasses in stainless steel and much more.
Assorted hand tools. Air compressor. Flat tire repair kit (life saver). First aid kit.
2000 watt gasoline generator
The Story
It is with great sadness that we must part ways with our beloved panam travel companion, but alas, the life nomadic is also a life without predictability. Moby simply doesn't suit us well for our next chapter. She has been all the way to Ushuaia two times and is very well-suited to the trip. The most recent trip saw her get even more security upgrades.
The Details
Everything marked with a single asterisk up there is an approximation of miles. Things marked with a double asterisk are what you should expect to get if you pay our full asking price.
Camper Only?
We would sell the camper separately and the camper would come with all the related accessories such as cookware, generator, etc. Price for the camper alone $8500 (firm).

Camper Details:
The camper is equipped with the following:
20 Gallon fresh water storage
7.5 gallon grey water storage
2000 watt generator
Furnace
Air conditioning
Happijac camper jacks
Queen bed with mattress and foam topper
3-way fridge
150 watt solar panel and controller
Invertor
Step down/step up transformer (plug in to either 220v or 110v)
Sink
2-burner stove
Sofa
Table
2 camp chairs
2 portable tables
Snorkel gear
Awning
Bedding
Cookware
Ample storage space
Portable/collapsible entryway steps
More items too numerous to list…
Interested? Contact us on the form below.